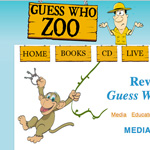 Link to SiteWhat began as a few edits on a previously-built Dreamweaver site for self-published children's book author, Howard Eisenberg, touted by both mainstream media and mommy bloggers, Read more...
evolved into an interesting project.
He needed an e-commerce solution for his books and one CD. The books have wonderful illustrations, so maximizing existing art was a no-brainer to attract sales. But various problems needed solutions.
E-commerce shopping cart subscriptions were not cost-effective and overly complicated for the small scale involved. The author's publisher already had a shopping cart on his own site, and managed inventory of the books. But, to be honest it was pretty unappealing.
And order fulfillment snags abounded. For instance, inventory was split between Virginia and Massachusetts. Split-shipping, drop-shipping…what to do?
Duh. Create one low-tech source; media-mail a cases of CD's to the publisher in VA for $21. It took a few phone calls to set up distribution with the publisher, but they agreed. So inventory, printing and shopping cart were now totally handled by the hybrid publisher, Mascot Books. A bit of luck—Mascot redesigned its own site in the middle of all this, making the shopping experience way less egregious than before.
Now for media links and publicity the Guess Who Zoo site needed to
Really feature the material that's sensible even for grandparents.
Tell the author's very interesting story
Have a "Buy" page describing prices, discounts and packages with links to Mascot's fulfillment pages.